Are you a cannabis enthusiast looking for the best purple weed strains in Canada? If yes, then you've come to the right place! We will make a purple top weed list and recommend the top 10 purple weed strains on the market.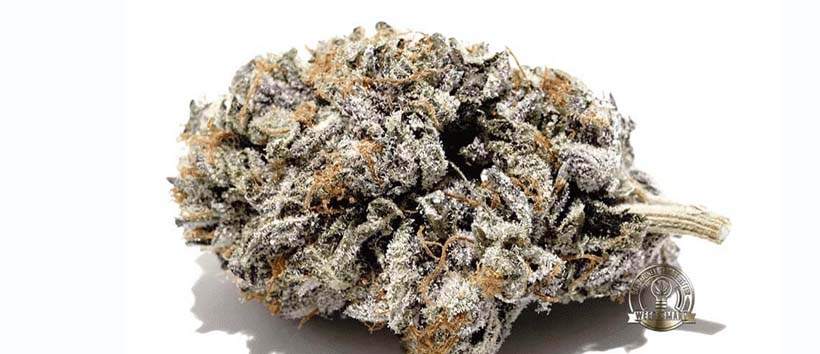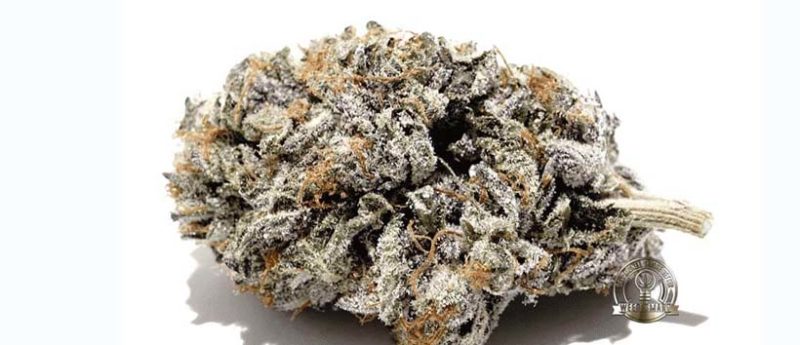 Instantly Grand Daddy Purple
Grand Daddy Purple, also known as "Granddaddy Purps," is an Indica-dominant hybrid variety developed in 2003 by crossing the Big Bud and Purple Urkle cannabis strains. The resulting product, which has a ratio of 80% Indica to 20% Sativa, has an average THC content of 17%-24% THC. In addition, its characteristic deep purple buds, covered in milky trichome crystals and orange hairs, boast delicious deep berry and grapefruit flavours, which result in a cerebral and relaxing high. 
Apart from recreational use, the Grand Daddy Purple weed strain also has several medicinal benefits for physical and psychological disorders. You can use this strain to treat various ailments such as anxiety, depression, insomnia, and chronic pain. In addition, the Grand Daddy Purple marijuana strain can also be highly effective at curbing nausea and combatting appetite loss in cancer patients or those with chronic illnesses. These factors make an excellent case for this strain to be in the top 10 purple strains.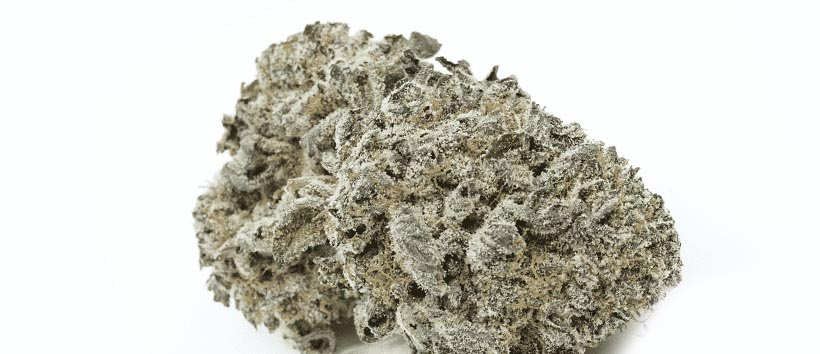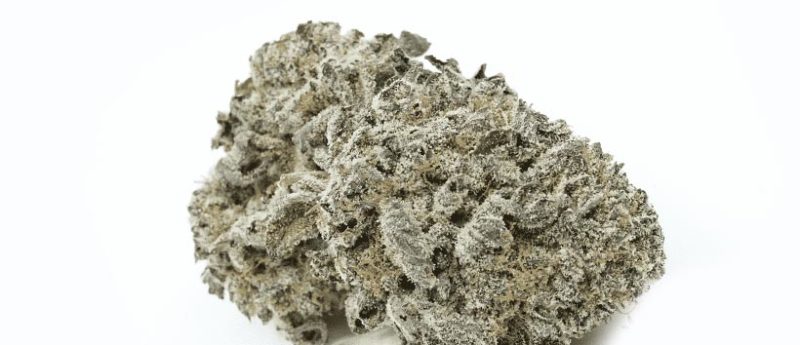 Purple Urkle
The Purple Urkle cannabis strain is a 50/50 Sativa and Indica hybrid, with THC contents reaching 18%-21%. The strain originated in California through a mix of the Granddaddy Purple and Mendocino Purps cannabis varieties. The Purple Urkle weed strain has characteristic purple buds, which give off a sweet smell of fruity pebbles and a delectable earthy grape flavour. That, combined with its mellowing effects, makes this strain amongst the most popular in Canada. It's no wonder why this strain made the purple top weed list. 
The Purple Urkle marijuana strain has also amassed a following for its medicinal properties. It is widely used to combat insomnia, stress-related disorders and can help as a potent analgesic. In addition, it is highly effective for treating headaches, inflammation, and muscle spasms. Purple Urkle plants are short, stalky, and bushier than other cannabis varieties and can take much longer to harvest. This strain is recommended for experienced growers and generally does better when grown indoors with sufficient humidity levels.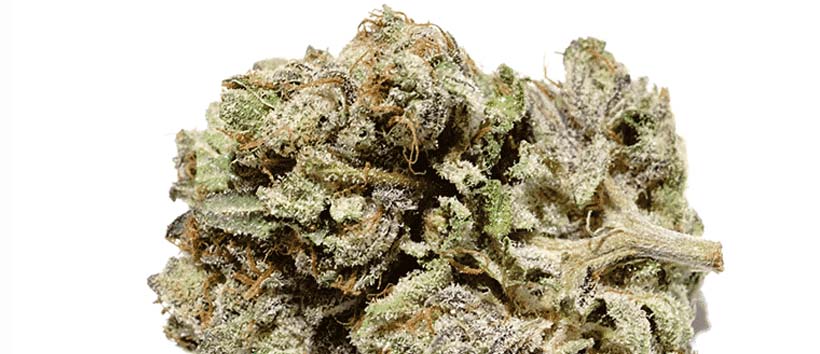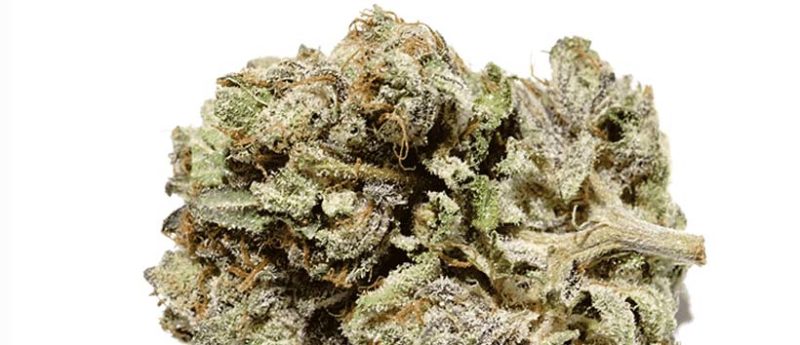 Purple Candy
The Purple Candy marijuana strain is 55% Indica and 45% Sativa, with an average THC content of 15%-19%. Furthermore, the Purple Candy weed strain has densely-packed purple pine cone-like buds with sticky trichomes and amber hairs. The buds smell sweetly like berry, pine, and grape. The inhalation tastes sweet and candy-like when smoked, and the sweet and fruity taste lingers for hours.
The Purple Candy cannabis strain's main medical uses include treating depression, anxiety, gout, and arthritis-related pain and inflammation. It's also helpful in treating insomnia, painful chronic illnesses like cancer. It is also anti-inflammatory and can help reduce the symptoms of chronic inflammatory diseases like gout, systemic lupus erythematosus, and arthritis. To be a part of the top purple strains, you would need to check off many boxes.
The Purple Candy strain gets its name from the purple colour and the sweet candy-like flavour. It is a good evening strain since it will take effect slowly and lead to couch-locking. It is easy to grow both inside and outside.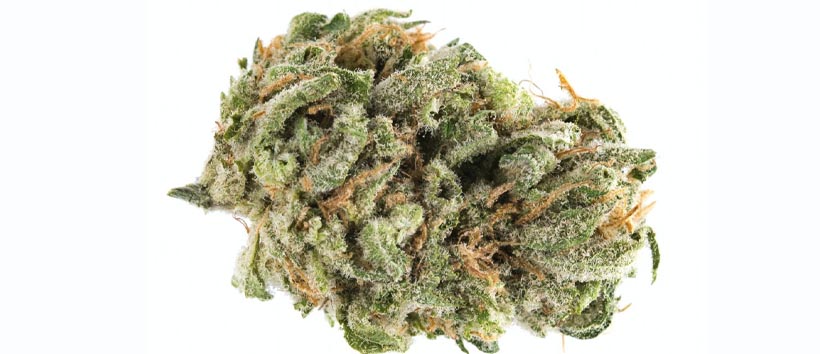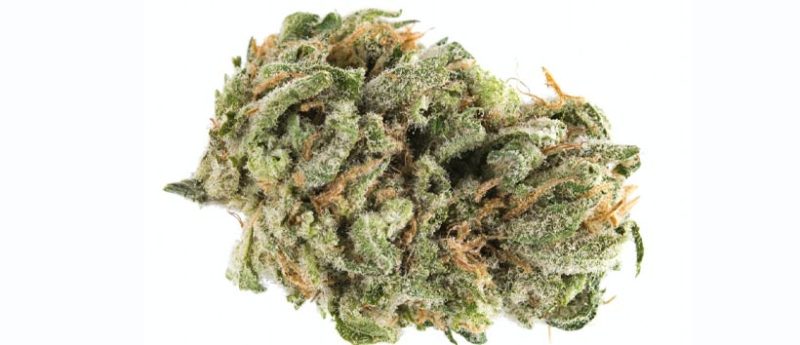 Purple Haze 
The Purple Haze cannabis strain is a Sativa-dominant variety with a 70:30 Sativa to Indica ratio, the 1967 Jimmy Hendrix classic. The strain was initially created by crossing the Haze and Purple Thai parent strains, creating fluffy purple buds capable of reaching 14% to 20% in THC levels. The buds are typically spade-shaped and covered with purple hairs and sticky, white trichomes. The Purple Haze weed strain has an earthy, sweet berry aroma and a sharp, spicy aftertaste. 
The Purple Haze marijuana strain has potent analgesic and anti-inflammatory effects, making it an ideal choice for those suffering from chronic pain and inflammatory diseases like fibromyalgia. In addition, its euphoric effects make Purple Haze an excellent treatment for stress and mood disorders, such as depression and anxiety. This strain can also offer relief to those undergoing cancer treatment or suffering from nausea and appetite loss. A large portion of the best purple weed comes from Canada.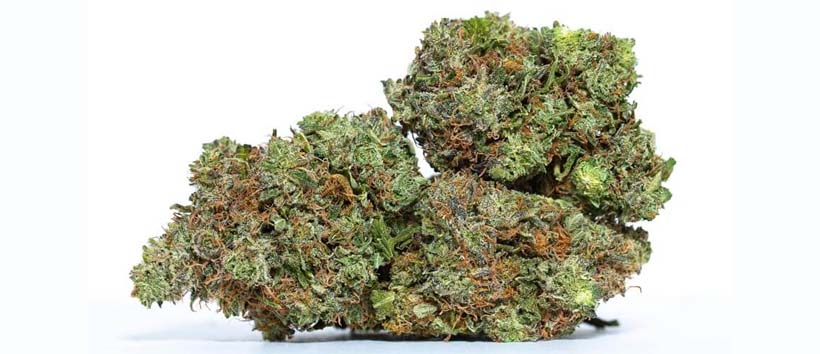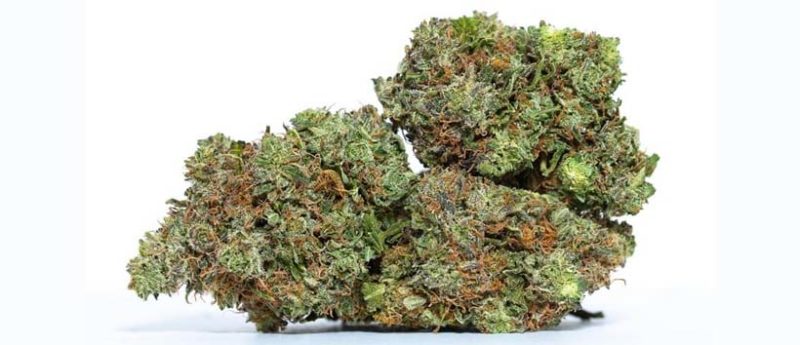 Purple Kush 
The Purple Kush cannabis strain, originally called Oaksterdam, is a pure Indica variety hailing from California. It came about as a cross between the Hindu Kush and the Purple Afghani cannabis strains to create a potent offspring reaching THC levels as high as 17%-28%. Its characteristic dense, bright-green buds with deep purple hues are covered heavily with purple hairs and sugary trichomes. The Purple Kush weed strain produces the aroma and flavour of tangy grapefruit with a touch of spice. 
The Purple Kush marijuana strain has strong sedative properties and helps treat various medical conditions, such as chronic pain, insomnia, inflammation from arthritis, nausea, and muscle spasms. Those with depression, PTSD, or anxiety disorders can also benefit from this potent strain. In addition, due to its strong anti-inflammatory effects, Purple Kush is particularly well suited for treating chronic inflammatory conditions such as lupus.  These reasons put this strain in serious contention for the best purple weed in the world.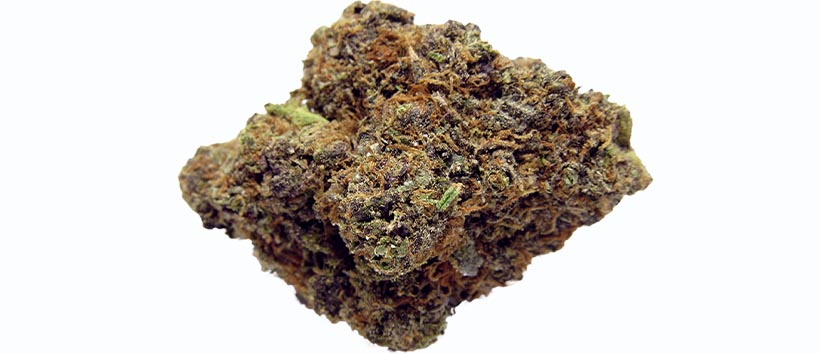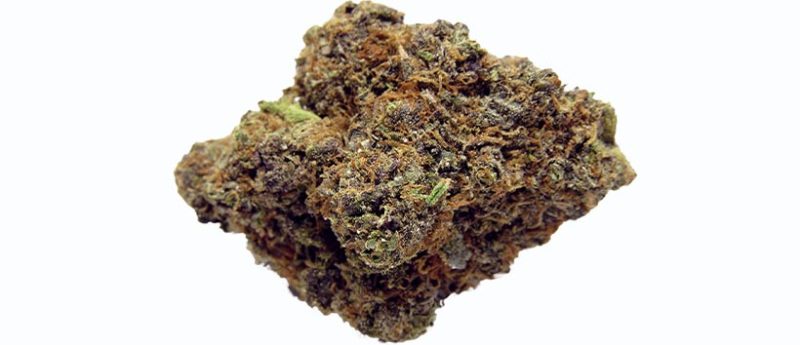 Grape Ape
The Grape Ape cannabis strain gets its name from its robust and enticing grape scent and flavour. This Indica-dominant strain has an Indica to Sativa ratio of 90:10, and its THC concentration falls between 15% and 23%. This strain's green buds are large and dense, with dark purple leaves and crystalline trichomes. Furthermore, the Grape Ape marijuana strain is made by crossing Mendocino, Skunk, and Original Afghani strains. The best purple weed strain would share many of these qualities. 
Thanks in part to its uplifting high, the Grape Ape weed strain lends itself to uses within the mental health sphere. This strain can relieve conditions associated with anxiety, stress, depression, ADD, and PTSD. This strain's sedative nature also helps with extreme cases of chronic pain, as well as muscle spasms and joint pain. The Grape Ape cannabis strain can also be used by those who suffer from insomnia, nausea, and appetite loss.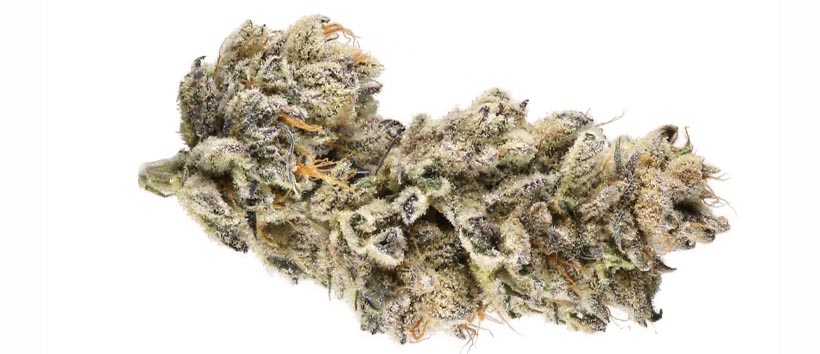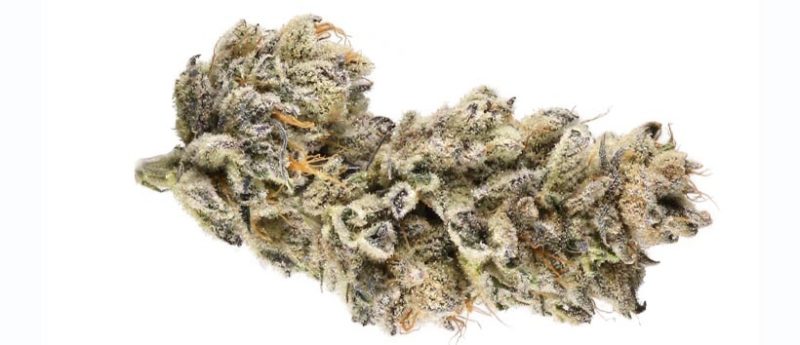 Purple Punch
The Purple Punch weed strain is a hybrid strain that contains 80% Indica and 20% Sativa. It has an average THC level of 18%-25%. The Purple Punch cannabis strain has fluffy, green nugs covered in orange trichomes. The leaves are usually green but turn purple during cold weather. The pistils can be purple, orange, or even green with yellow shades. Flavorwise, the Purple Punch weed strain has both sugary and sweet notes and tastes like sweet grapes, spicy pineapple, and berries. The undertones can be citrusy and smokey and even a bit like sour skittles. The mixture of flavours can be earthy and blueberry when the buds are ground or broken. On exhale, the taste is like berry smoke.
The Purple Punch marijuana strain can be used medically for heavy relaxation and sedative purposes. It will alleviate mild or chronic pains, cramps and muscle spasms. It can also treat insomnia and give a person quality sleep and increase appetite. In addition, because the Purple Punch cannabis strain is uplifting, it will relax anxiety, tension, and stress almost instantly. Most purple strains share many of these qualities.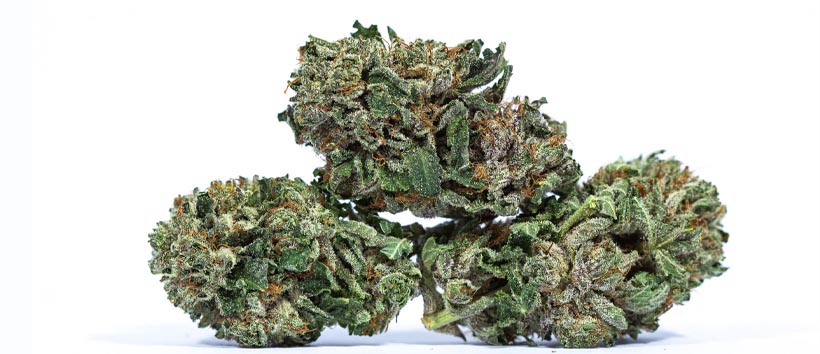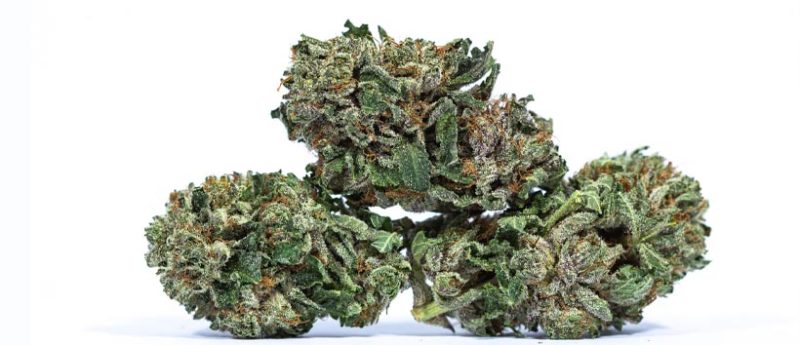 Purple Rhino
The Purple Rhino cannabis strain is an Indica cannabis strain with an average THC level of 17%-20%. The Purple Rhino marijuana strain has large purple buds with green patches and orange hairs, covered in thick amber trichomes.
The Purple Rhino weed strain has flavours of fresh pine blended with sweeter notes. It has a pine scent, sour citrus with skunky and sweet undertones.  When exhaling, nutty, tropical, and berry flavours are detectable.
The Purple Rhino cannabis strain's typical medical uses are its uplifting, cerebral effect to relieve depression, stress, and anxiety. In addition, it instantly can help alleviate arthritis, muscle spasms, migraine, and chronic pain because of its sedative properties. It helps promote peaceful sleep in the long run, so it is also helpful for battling insomnia.
The Purple Rhino weed strain gives an uplifting experience, promotes positive thinking, and makes users more talkative, social, and happy. In addition, a narcotic, deep relaxation will happen toward the end, and the user will have a couch-lock and good, restful, quality sleep. These factors make an excellent case for this strain to be in the top 10 purple strains.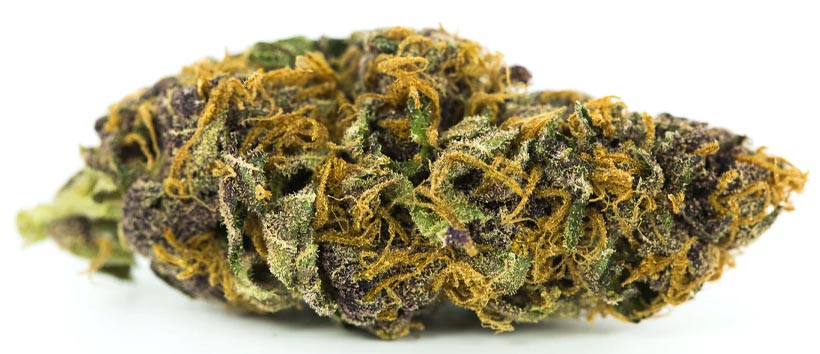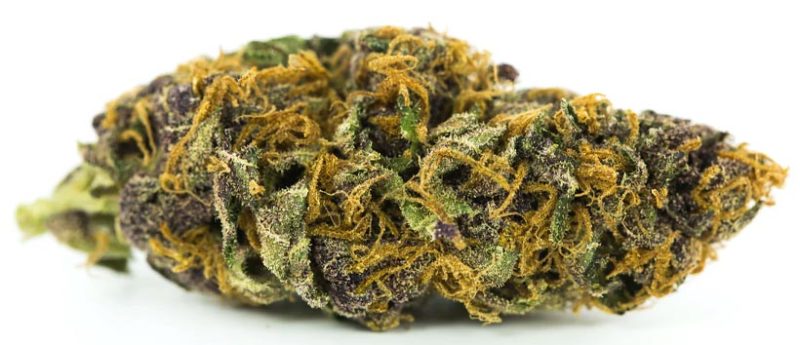 Purple Space Cookies
The Purple Space Cookies cannabis strain is a hybrid with 80% Indica and 20% Sativa. The average THC level is 20%-25%.
The Purple Space Cookies weed strain has crystal-packed buds that have flowers in a beautiful purple shade. The grape-shaped olive green nugs have purple undertones, and when you pull the purple nuggets apart, the aroma of cookies is released.  The strain has a sweet grape aroma and rich undertones of pine and earth—the aromas of grapes, berries, nutty and grape spices, combined with fresh berry cookies. 
The Purple Space Cookies marijuana strain is popular for recreational use because of its relaxing and euphoric effects, but it is also a popular medical strain. It is used medically for chronic pain, stress relief, mood swings, arthritis, insomnia, inflammation, and depression. So it is clear why this strain made the purple top weed list. 
The cannabis strain, a hybrid cross between Durban Poison and Girl Scout Cookies, will give lots of creative energy and uplifting happiness.
Interesting Reads
How to Smoke Weed, Best White Marijuana Strains in the World, What is Cannabis?
References