It is all fun and games when smoking cannabis until you have to deal with the lingering smell left after the enjoyment is long gone. While most users won't mind the scent, it may not be delightful to non-users. Rather than cause a stir and become a nuisance to be avoided due to the smell, it is best to consider different ways to get rid of this smell.
However, even before you find solutions to eliminate the smell, you want to consider how long it lasts. Note that several factors affect the longevity of the cannabis scent.
How Long Does the Smell of Weed Last?
How long it takes for the smell of cannabis flowers to last or wear off depends on several factors. Generally, though, besides CBD and THC, cannabis contains terpenes, which are mainly responsible for the cannabis's distinct smell. 
However, the smell lasts based on the following factors.
The Content of Terpenes:

Different cannabis varieties have varied terpene amounts. This explains why some cannabis species have more pungent scents than others.

The amount of cannabis smoked:

This may seem obvious, but some people may not realize that the more cannabis they smoke, the stronger the scent is, not to mention that the smell lasts longer. You will feel more cannabis smoke if people have smoked large amounts in a room.

Consumption method:

The technique used in consuming cannabis also affects the scent's longevity. For example, users who smoke blunts and joints have a more pungent scent around them compared to those who opt for bongs and vape pens. 

The ventilation system matters:

The cannabis smell can last longer if you smoke in an enclosed space with minimal

ventilation

. If you want the smell to go away, ensure that you are smoking in a well-ventilated space, as the unrestricted airflow makes it easy for the scent to dissipate. The smell wears off faster if you have more air circulating.
With all these factors in mind, it is not easy to know the exact duration that the cannabis smoke scent lasts. However, it is safe to say that the smell can last a few hours to a few days, depending on the factors described above. 
However, if you do not want to wait for the smell to dissipate naturally, there are several tools you can use to help you freshen the air and help you attain a new space even after enjoying your cannabis. Besides opening the windows, you could also use fans and fresheners to help refresh your room in less than 30 minutes after smoking weed.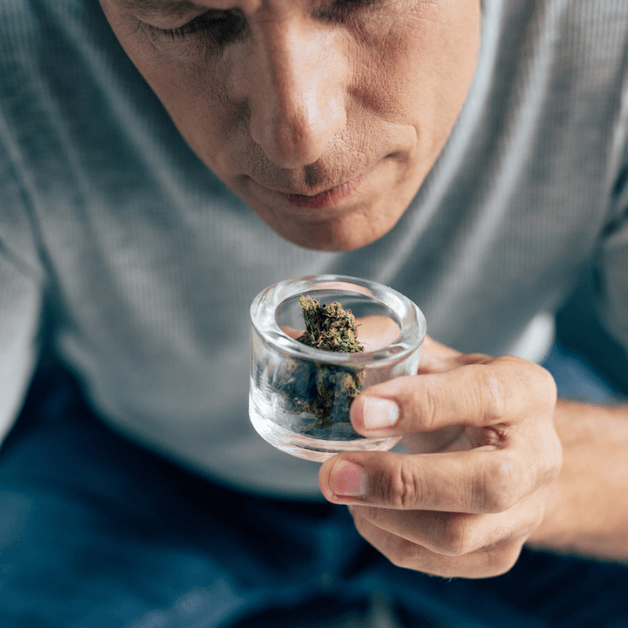 What Gives Cannabis Its Smell?
As mentioned earlier, terpenes are responsible for cannabis's unique and distinct smell. This smell often ranges from a woody-earthy scent to a citrusy-sweet scent. It all depends on the strain that you are using. It is possible that regular cannabis users can distinguish between the different strains based on the scent.
Usually, this distinct smell comes from terpenes which are tiny volatile molecules that cannabis plants create. Terpenes are aromatic and make up or qualify as the essential oils found in the cannabis plant. The plant mainly uses them as a natural deterrent against insects and other predators, including mammals.
What are the Different Scents of Marijuana?
The description of this scent varies based on the user's experience. Usually, most find it to be woody, earthy, and herbal. It has a distinct smell that cannot be found in many other plants. 
Some people report having experienced notes of apple, lemon, plum, and diesel in their marijuana. You may note that the scent of cannabis is much stronger in the dried version of the product compared to the fresh plant.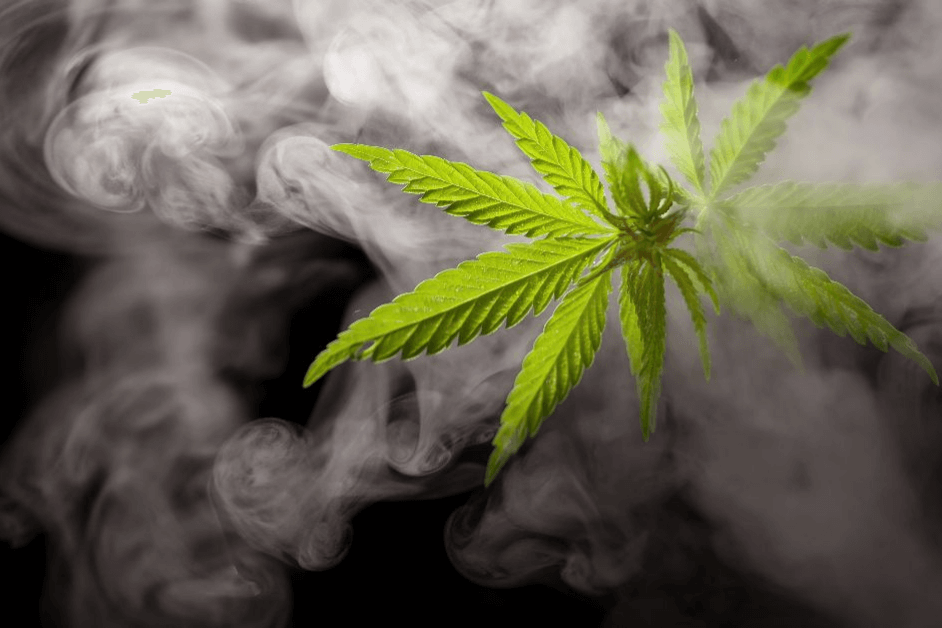 How Long Does the Smell of Weed Last?
So, how long does the smell of weed last? This remains a question that most people will ask, especially when embarking on this journey for the first time. The reality is that it depends on the factors already mentioned above. Depending on your smell elimination mitigation tactics, the duration can be short or long.
Generally, though, expect a few minutes to a few days of the smell around your space. If you choose to freshen up the space using refreshing sprays, then the cannabis terpenes scent will not last as long. However, if you smoke dry joints and do nothing about refreshing the smell, it can last up to several days.
But if you are vaping products like LabPur THC vape pens, there is no weed smell since the product removes the cannabis terpenes during the extraction process.
Ways to Get Rid of the Smell of Weed?
You must act fast to eliminate the smell of weed in your house. Fortunately, this can be achieved with a lot of ease. 
Below are a few things you can do.
Use air fresheners:

Most users can swear that the

terpenes weed smell can disappear with a suitable air freshener. All you have to do is spray the space once done, and no one can tell that you have been smoking weed all afternoon. Just be sure to pick suitable air fresheners since only specific ones work.

Take your Marijuana Outside:

Ventilation is a crucial and no better way to get rid of the marijuana smoke than smoking outdoors. This means that the scent doesn't have to linger inside the house but would dissipate quickly outside.

Deodorize by burning incense and scented candles:

If you must smoke indoors, consider using scented candles and other deodorizers such as incense sticks and scented candles.

Use smoke filters/ sploof:

It is incredible how far technology has come. Make use of smoke filters to eliminate stubborn weed smell. These filters come in varying shapes, sizes, and colours and should be considered an essential household tool. You can also make a

homemade sploof.

Always cover your weed:

Proper storage of the cannabis product is key to minimizing the scent. Ensure the smell does not escape when the weed is not in use. Proper storage also improves quality.
Learn more about cannabis-related topics at Weed Delivery Vancouver.
Resources
Raychelle, C. (2022). Behind Closed Doors: 5 Methods Teens Use To Mask The Smell Of Marijuana. Available at: https://recovery.org/pro/articles/behind-closed-doors-5-methods-teens-use-to-mask-the-smell-of-marijuana/
Highest Farmacy. (2023, February 1). Get Timely and Reliable Same-Day LabPur Vape Delivery in Toronto and Surrounding Cities. Available at: https://highestfarmacy.com/product-category/brand/labpur/
ACS Newsroom (2021) Why cannabis smells skunky. Available at: https://www.acs.org/content/acs/en/pressroom/presspacs/2021/acs-presspac-december-1-2021/why-cannabis-smells-skunky.html
BC Weed Delivery. (2023, February 1). Find the best weed delivery in BC and online dispensaries in Canada. Available at: https://bcweeddelivery.org/
Thomas, L. (2021) Emerging Indoor Laws for Onsite Cannabis Consumption Businesses in the U.S: Available at: https://www.ajpmonline.org/article/S0749-3797(21)00330-5/fulltext