Do you love the psychedelic effects of psilocybin but don't relish eating a serving of dried mushrooms to reap the benefits? Shrooms can have an earthy flavour that isn't to everyone's taste. Making magic mushroom tea is a great compromise for anyone who'd instead drink their psilocybin than eat it. Learning how to make shroom tea isn't a complicated process, either. Check out our shroom tea recipe and start enjoying psilocybin tea whenever you'd like.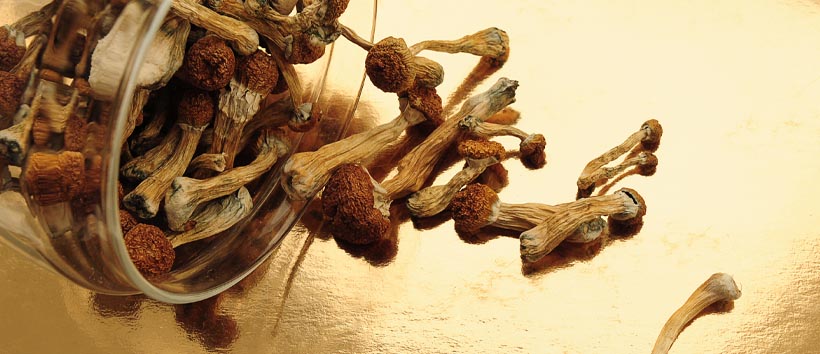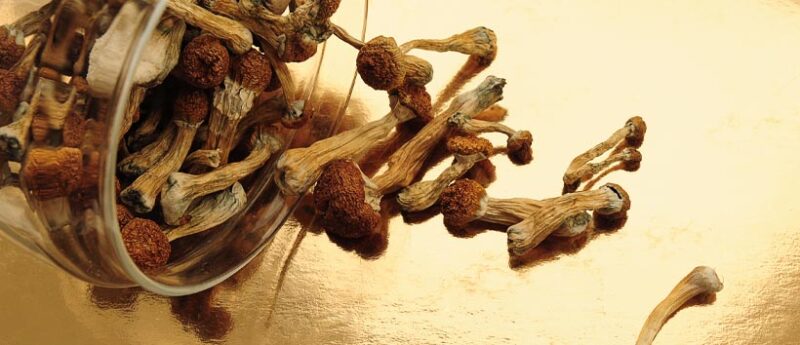 What Is Psilocybin Tea?
Psilocybin is naturally found in some magic mushroom species. This psychedelic compound is responsible for the mind-opening effects that make magic mushrooms famous. Cultures worldwide have a long legacy of using shrooms for social, religious, and spiritual purposes. Modern science also appreciates the life-changing power of psilocybin! This compound is lab-proven to treat depression, PTSD, and other serious mental health concerns. 
Psilocybin tea is an infusion of psychedelic mushrooms in water. Dried shrooms can also be eaten on their own or cooked into some recipes. Many people learn how to make shroom tea because they want the benefits of psilocybin but don't love the taste or feel of mushrooms. If you don't like standard magic mushrooms or simply want to try a new method, learning how to make shroom tea is an ideal next step.
How To Make Shroom Tea: Ingredients
3-5 grams of psilocybin mushrooms
Flavourings such as lemon juice, fresh ginger, honey, tea bags, and more
You'll also need a stove or hotplate, saucepan, two bowls or mugs, a plate, and a strainer or cheesecloth. A knife and cutting board are optional but may be helpful.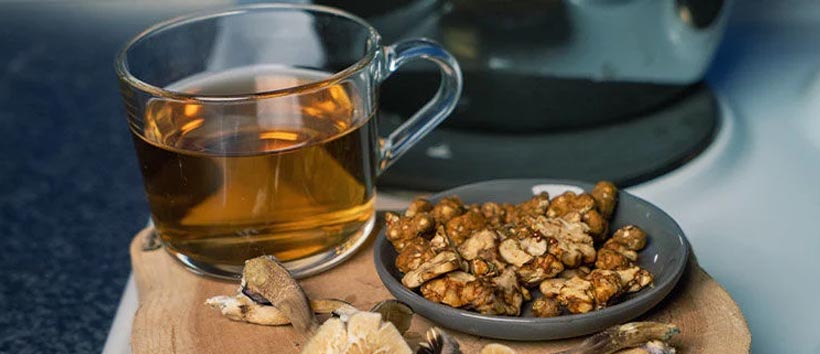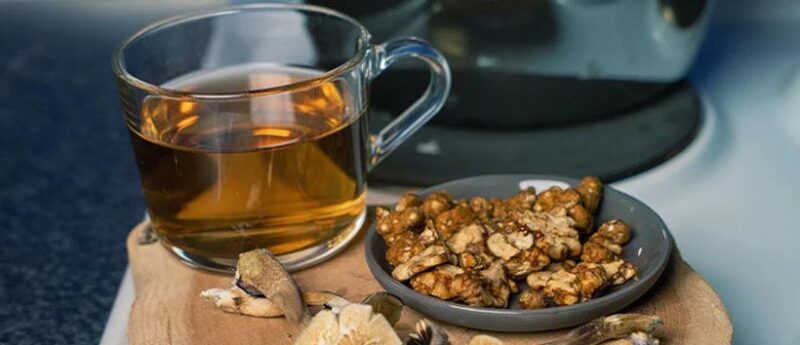 Step By Step Shroom Tea Recipe
Boil one cup of water in the saucepan.

Chop or tear your mushrooms into small pieces. Smaller pieces are ideal because they create more surface area. Create evenly-sized portions for the best results.

Place the mushroom pieces into a bowl or mug, then add the hot water. If you're using a standard tea bag to flavour your tea, add it to the hot water as well. Cover the container with a plate or lid and let steep for 15 minutes.

Boil the other cup of water in the saucepan. Add any other flavourings such as lemon, ginger, or honey.

Once the mushrooms have steeped for 15 minutes, pour the mushroom mixture into the saucepan with the flavourings. Let the combined mixture steep for 15 minutes.

Carefully strain the tea to remove any leftover plant matter.

Pour into a mug. Adjust the flavourings if desired, and enjoy!
Where To Source Mushrooms For Psilocybin Tea
We hope our shroom tea recipe simplifies the process of making magic mushroom tea! Now that you know how to make shroom tea, you just need to get your hands on some mushrooms to brew a cup. Explore magic mushrooms online in Canada through Weed Delivery Vancouver. We offer the best psilocybin shrooms, all at fantastic prices. So get ready for your next spiritual adventure with shrooms from WeedDeliveryVancouver. See what others are saying on review sites like CannabisOntario. Get top-rated shroom delivery or buy shroom tea online in Canada from a mail-order service.
References
Cannabis Ontario. (2022, May 1). Find the best cannabis in Ontario. Available at: https://cannabisontario.net/
Wikipedia. (2020). Psilocybin. Available at: https://en.wikipedia.org/wiki/Psilocybin
Johnson, M W. (2017, June 5). Potential Therapeutic Effects of Psilocybin. US National Library of Medicine: National Institutes of Health. Available at: https://www.ncbi.nlm.nih.gov/pmc/articles/PMC5509636/
Get Kush. (2022, May 1). Best Online Dispensary Canada | Buy Weed Online. Available at: https://getkush.cc/