With so many cannabis strains flooding the markets, it can be challenging to pick the right ones for you. And with certain strains gaining all the spotlight, there are many excellent strains that you might never get to try (or even hear about).  
That's why we decided to list some of the best under-the-radar weed strains. Let us know if you have tried any of these and if you think other relatively unknown strains deserve to be on this list. 
Night Nurse
The Night Nurse cannabis strain has an Indica to Sativa ratio of 80:20, making this an Indica-dominant weed. Created by crossing BC Hash Plant, Fire OG Kush, and Harmony strains, Night Nurse has a broad THC level that falls between 10% and 21%. 
The flavour of the Night Nurse marijuana strain is comparable to a cup of coffee with sage, while its scent has a sweet floral perfume with hints of coffee and fragrant earth tones. Its green-pepper-shaped nuggets are bright green, with golden crystal trichomes and tiny orange hairs coating its exterior. 
When smoked, the high is said to overtake the mind, leaving users extremely happy. Unfortunately, the high then creeps down into the rest of your body, driving users to a deep slumber. However, thanks to its sedative properties, the Night Nurse weed strain works well for medical marijuana users suffering from migraines, chronic pain, arthritis, and insomnia.  
Alaskan Thunder Fuck
This well-known, 100% pure Sativa strain has a THC level of 15%-25% and CBD of 0.8%-1%. Alaskan Thunder Fuck weed strain has a long-lasting high with euphoric, uplifting effects often accompanied by creative and deep focus sensations. 
The buds are sticky and densely packed, covered in tiny curling vibrant orange pistils. The leaves of this strain are green, frosty, and sugary. They'll sometimes have dark purple shades during cold temperatures due to the activated anthocyanin pigment. It has a stinky, diesel-like smell, with a skunk and earthy undertone. However, the spicy orange and banana tones make it more appealing. 
Alaskan Thunder Fuck marijuana strain will help you erase negative thoughts, giving you a positive attitude toward life. This strain is the best remedy for stress, anxiety, and depression. In addition, higher doses can help alleviate chronic pain, muscle aches, and migraines. Although this strain's origin is still a mystery, it's one of the most popular Sativa strains in the cannabis world due to its complex flavour profile and long-lasting head high that will lift you into the most intriguing and pleasant state.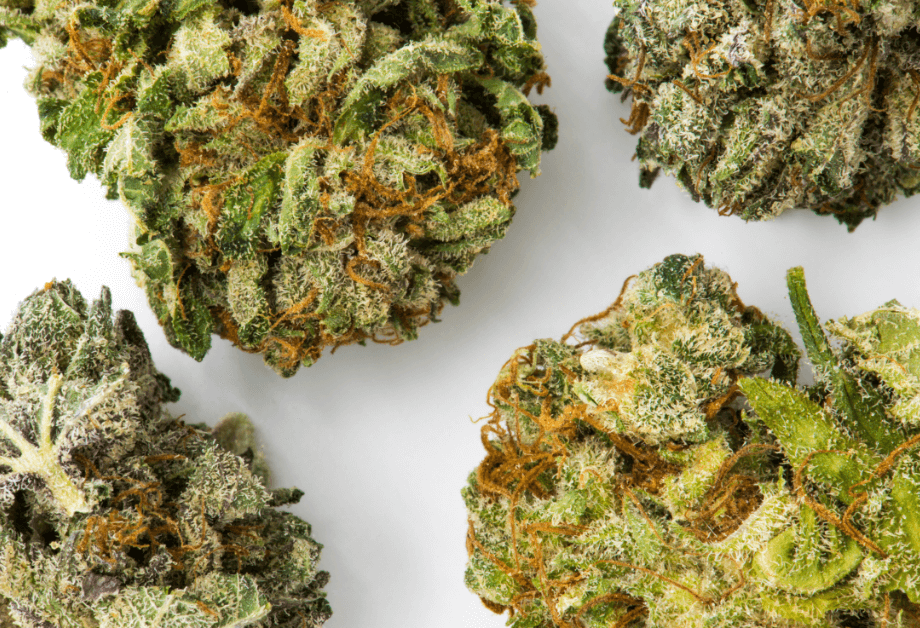 Gas Mask
The Gas mask cannabis strain is a pure Indica strain created by crossing the Cherry Pie and Alien Kush F2 varieties. The strain's tightly woven buds can reach between 16%-19% THC levels and give off a very pungent lemony pine smell with gasoline and skunky undertones. Upon combustion, the buds produce a smooth and earthy aroma with fruity notes and a cocoa-like flavour. 
The Gas Mask marijuana strain can be a valuable medicinal remedy. Due to its ability to improve concentration and regulate mood, the strain can help treat stress disorders and depression. It is also a potent analgesic, making Gas Mask a tremendous strain for treating chronic pain and inflammation disorders. In addition, because Gas Masks can bring on some severe munchies, they can also help stimulate appetite and digestion. 
Purple Space Cookies
The Purple Space Cookies cannabis strain is a hybrid weed with 80% Indica and 20% Sativa. The average THC level is 20%-25%.
The Purple Space Cookies weed strain has crystal-packed buds that have flowers in a beautiful purple shade. The grape-shaped olive green nugs have purple undertones, and when you pull the purple nuggets apart, the aroma of cookies is released.  The strain has a sweet grape aroma and rich undertones of pine and earth—the aromas of grapes, berries, nutty and grape spices, combined with fresh berry cookies. 
The Purple Space Cookies marijuana strain is popular for recreational use because of its relaxing and euphoric effects, but it is also a popular medical strain. It is used medically for chronic pain, stress relief, mood swings, arthritis, insomnia, inflammation, and depression.
The cannabis strain, a hybrid cross between Durban Poison and Girl Scout Cookies, will give lots of creative energy and uplift happiness.
Dutch Treat
An Indica dominant hybrid with THC levels of 18%-25%, the Dutch Treat weed strain is sure to uplift you into euphoria before bringing you to total relaxation. It is conical in shape with dark green, soft, wispy leaves covered in thick, sticky trichomes and yellow and golden pistils. Be sure to use a grinder when handling this marijuana strain due to its stickiness! 
With an 80:20 Indica to Sativa ratio, this strain is the product of a cross between Northern Lights, Skunk, and Haze that will bring a scent of blueberries and fruity pine with earthy undertones. So get ready to enjoy the smooth, woodsy, sweet smoke Dutch Treat marijuana strain produces upon combustion.
In addition to the euphoric effects, inviting scent, and unforgettable flavour, this marijuana strain is also an effective remedy to treat stress, depression, anxiety, chronic pain, inflammation, migraines, and arthritis.
Not to mention, it's easy to grow. Taking 7-9 weeks to flower and yielding 12 ounces per square meter is short. In addition, the bushy structure makes it ideal for growing indoors, on soil, or hydroponically.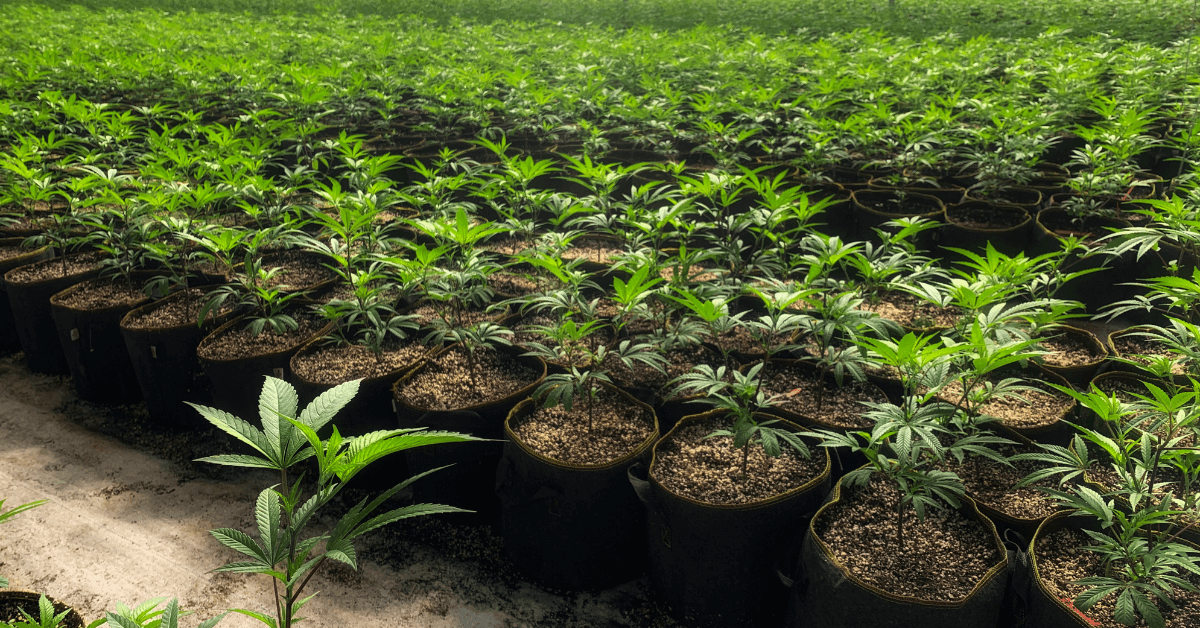 In Conclusion on the Top 5 Best Under-The-Radar Cannabis Strains
Now that you've seen our list of top 5 under-the-radar weed strains, share with us your list. Let us know in the comments your favourite lesser-known cannabis strains. Browse our dispensary listings and find top-grade options for online orders like Weed Smart or get same-day weed delivery in Vancouver.
References
Cannabis Ontario. (2022, August 15). Find the best cannabis in Ontario. Available at: https://cannabisontario.net/
Hartney, Elizabeth. (2020, July 22). What is THC? Very Well Mind. Available at: https://www.verywellmind.com/what-is-thc-in-marijuana-4080556
Daily Treats Delivery. (2022, August 15). BC's Top Weed Delivery Service. Available at: https://dailytreatsdelivery.io/
HealthLink BC. (2018, October 10). Medical Cannabis. Available at: https://www.healthlinkbc.ca/medications/medical-cannabis
WeedSmart. (2022, August 15). Canada's Best Marijuana Dispensary | Online Dispensary Canada. Available at: https://weedsmart.cc/
WebMd. (2020). Cannabidiol (CBD). Available at: https://www.webmd.com/vitamins/ai/ingredientmono-1439/cannabidiol-cbd