Interested in buying CBD oil in Vancouver? Then you're in luck! Vancouver is a hot spot when it comes to all things CBD. This makes complete sense considering British Columbia produces the highest volume of cannabis in all of Canada. 
You won't just find lots of options when you search "CBD oil near me in Vancouver" or "find local CBD in Vancouver". You'll also find plenty of high-quality CBD products. Once again, this makes sense since these products are often produced using home-grown BC plants that thrive in the province's ideal growing conditions. 
Now that you know that it's possible to find quality CBD oil – and a lot of it – in Vancouver, it's time to shop! Before you do, check out all the best tips for shopping for CBD oil at local Vancouver dispensaries. 
What to Consider Before You Buy CBD Oil in Vancouver
Before you head to that dispensary around the corner, there's a lot to think about. It all starts with choosing the right dispensary, but even once you do, selecting the right CBD product won't be a walk in the park. 
A big reason for this is that there are so many different ways to consume CBD oil in Canada. Not only can you smoke it or vape it, but you can eat it, drink it, and even slather it on your skin. 
For this reason, the very first consideration for buying CBD oil is to decide how you want to consume it. Here's a complete list of the most popular CBD oil products right now: 
CBD oil edibles

(gummies, cookies, brownies, etc.)

CBD oil beverages (teas, lemonades, etc.)

CBD oil

tinctures

(concentrated CBD contained in a dropper bottle)

CBD oil capsules

CBD oil flower (cannabis strains containing a high concentration of CBD and very little THC)

CBD oil topicals (lotions, balms, salves, bath bombs, etc.)

CBD oil sprays
Once you've decided on the consumption method that's right for you, the work is still not done. You still have to consider qualities like potency and suggested use.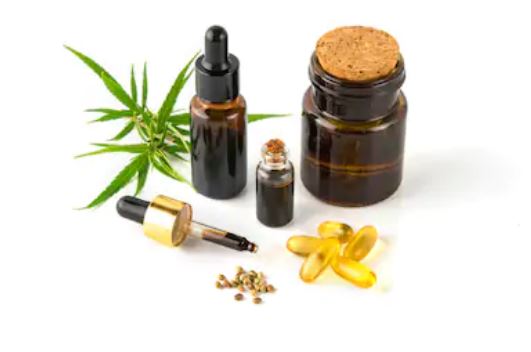 Buying Tips for Choosing the Right CBD Oil Products
The beauty of 2021 is that there are now SOOOOO many CBD oil products to choose from, but this is also the downfall. Even in Vancouver alone, the options are endless, and this can make the search for the perfect CBD oil product feel impossible. 
To alleviate some of the challenges involved in choosing the right CBD oil, follow these buying tips: 
Only Choose a Product If Lab Tests Are Provided
The good majority of CBD oil products – at least the ones produced in Canada – are tested for potency, contaminants, and overall quality. These tests prove that a product is safe to use, and therefore worth buying. 
However, not all lab tests are created equal. It's important that you only purchase CBD oil that has undergone third-party testing. This is when a third party performs the lab test on the product, rather than the CBD producer itself. 
Having an unbiased testing source generally means that the product can be trusted. 
Consider Full-Spectrum vs Broad-Spectrum
There are two main categories of CBD oil: full-spectrum and broad-spectrum. It's difficult to say which one is better; it all comes down to personal preference and whether or not you want THC to be present in your CBD oil. 
If you do want to explore the benefits of THC, then you'll want to go with a full-spectrum CBD oil. Broad-spectrum oils have been stripped of all other cannabinoids and terpenes, so only CBD remains. If that sends better to you, then go with a broad-spectrum product.  
Look Into Dispensary Ratings & Product Reviews
Reviews and ratings speak volumes, so you'll definitely want to check these out before choosing your local Vancouver dispensary. 
Before placing an order or shopping in person, check that a dispensary has a good overall reputation. Once you've done that, check the overall reviews of the specific CBD oil product you want to buy. 
Where to Find the Best CBD Oil in Vancouver
The best place to buy CBD oil in Vancouver is… drumroll please… online! 
Most of Vancouver's retail dispensaries now specialize in online sales. This means you can place your order online, then wait an hour or two for same-day local CBD delivery from trusted websites like Weed Delivery Vancouver. Or, you can go to the store yourself and pick up your online order. 
Of course, it's also possible to go directly to a local dispensary and purchase your products in person. But there are some flaws with this model. It can be difficult to find the exact CBD oil product you're looking for. Shopping online, however, makes it easy to see exactly what's in stock and available in Vancouver for delivery/pick up. 
References